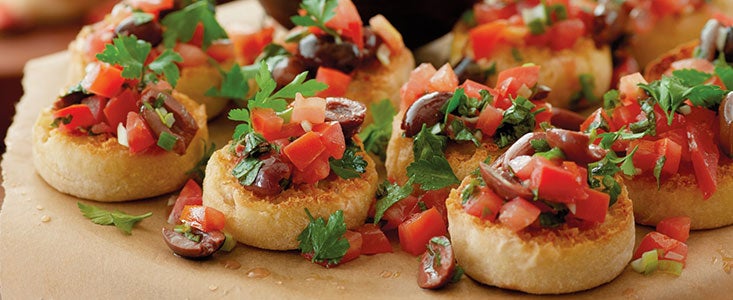 ---
Kansas City Chili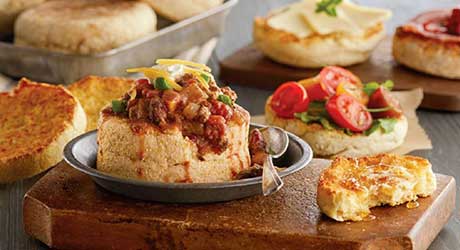 Ingredients
5 pounds ground beef chuck or hamburger
2 tablespoon olive oil
2 large onions coarsely chopped
6 cloves of garlic, finely chopped or pressed
1 tablespoon ground cayenne
4 tablespoons ground cumin
6 tablespoons mild red chili powder
2 tablespoons ground coriander
2 tablespoons oregano
3 teaspoons salt
3 cups water
2- 15 oz. cans tomato sauce
2- 28 cans diced tomato
2 cups pinto beans - 16 ounce can drained
2 cups black beans -16 ounce can drained
Directions
Add olive oil to 5 quart pot and sauté onions for about 5 minutes on medium heat.
Add garlic and meat breaking up the meat with a wooden spoon. Cook until just browned.
Stir in spices, tomato sauce and diced tomatoes. Bring mixture to a boil then lower heat and cook for 2 hours, stirring occasionally. Add beans and cook ½ hour longer. Taste and adjust seasoning.
Split Signature Corn Meal English Muffin and hollow the center of the muffin halves with a fork to make a cavity.
Fill with chili and top with grated cheese, chopped onions, sour cream.
---
Signature Cheddar Cheese English Muffin Pizza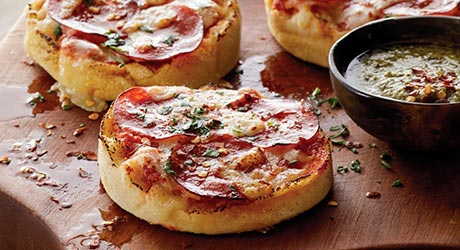 Ingredients
Directions
Split open English muffins and place on baking sheet lined with parchment paper.
Top with 2 Tbs. marinara or 1 Tbs. pesto and 1 Tbs. marinara. Sprinkle with some dried oregano
Top with grated mozzarella and 3-4 slices pepperoni
Top with a little more cheese and sprinkle with chopped parsley
Bake at 400 degrees for 16-18 minutes
Mini Cheddar Artichoke Strata
Ingredients
6 Wolferman's® 1910 original recipe or sourdough mini English muffins
1½ (6.5 oz.) jars marinated artichokes, drained and chopped
½ bunch parsley, finely chopped
½ bunch green onions, finely chopped
8 oz. sharp cheddar cheese, grated
8 saltine crackers, crushed (put in locking storage bag and crush with hands or rolling pin)
6 eggs
Directions
Sauté parsley in reserved artichoke juice about 2 minutes on medium heat.
Whisk eggs, adding the green onions, cheese, artichokes, crackers, and hot sauce.
Grease a standard muffin tin (2-inch base) with butter or cooking spray.
Press muffins outside down in pan and top with the artichoke mixture, about ¼ cup for each.
Bake at 350˚F for about 20-22 minutes, until bubbling.
Remove from oven and let set for a few minutes.
Run a knife around edges to remove from pan.
---
Tomato Tapenade Bruschetta](#tapenadebruschetta)
Ingredients
12 Wolferman's® 1910 original recipe mini English muffins, split and toasted
2 cloves garlic, minced
½ cup extra-virgin olive oil, plus additional olive oil to brush over toasted muffins, divided
6 medium Roma tomatoes, seeded and chopped
2 Tbsp. minced fresh parsley
½ cup chopped fresh basil
½ cup sliced black olives or Kalamata olives
2 Tbsp. diced green onions
½ cup red wine vinegar
½ tsp. salt
Fresh parsley springs or basil leaves, for garnish
Directions
To prepare tapenade:
Combine garlic, ½ cup olive oil, tomatoes, parsley, basil, black olives, green onions, vinegar, and salt.
Mix well.
Note: may be prepared up to 4 hours ahead and refrigerated.
To assemble the bruschetta:
Brush toasted mini muffin halves lightly with olive oil.
Divide tomato tapenade evenly and spread on top of each mini muffin half.
Garnish with a sprig of parsley or a basil leaf.
Bake at 375°F for 35 minutes.
---
Crunchy Baked Brie
Ingredients
Directions
Top toasted mini muffins with ripe Brie cheese.
Sprinkle with chopped pecans.
Place mini muffins on broiler pan and broil, 3–5 inches from heat, until cheese is melted and bubbly.
Top with dried cranberries.
---
Bacon Panini Sandwich
Ingredients
1 bunch basil
8 oz. ball mozzarella cheese OR smear Goat cheese on muffin halves
6 strips bacon
1 large tomato
Directions
Split muffins in half lengthwise, butter outside of each muffin, and set aside.
Slice tomato and cheese to be divided equally among 4 sandwiches.
Fry bacon.
Assemble sandwiches with sliced tomato, cheese, 1½ slices of bacon, and basil leaves, keeping buttered side outward.
Place in a panini pan and press over medium heat, until outside is golden and cheese is melted (may also use griddle or large skillet).
Recipes Breakfast/Brunch Savory Dessert Mini Moments