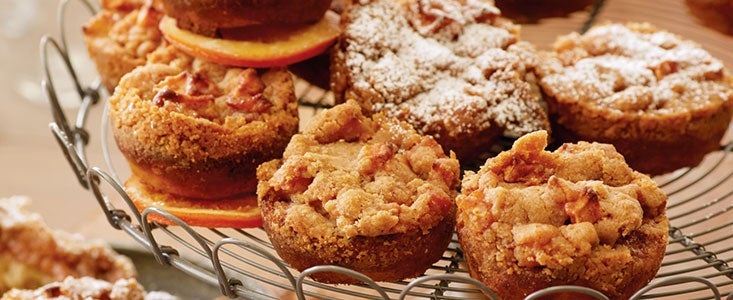 ---
Triple Berry Shortcake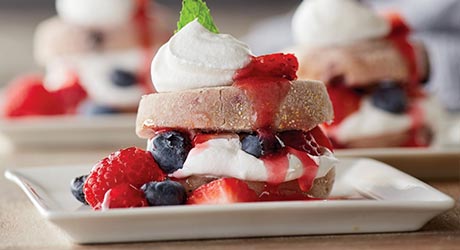 Ingredients
Directions
Stem and quarter strawberries
Add 2-3 Tbs. sugar
Mix and put in refrigerator for about ½ hour until juice develops.
Whip cream with 2-3 Tbs. sugar to taste and 1 tsp. vanilla
Split English Muffins and lightly butter. Place on baking sheet and broil on middles rack of oven until just warm
Spoon strawberries mixture over muffin halves. Add a dollop of cream, blueberries, and raspberries and place muffin halves on top of fruit
Drizzle with juice from strawberries top with cream.
Garnish with fresh mint or grated lemon zest.
---
Cranberry Citrus Mini Apple Streusel English Muffins
Ingredients
½ cup milk
2 eggs
2 Tbs. sugar (muffin base)
¼ tsp. vanilla
1 tsp. cinnamon (muffin base)
2 cups granny smith apples (about 2 medium apples) peeled, cored and chopped in ½" chunks
4 Tbs. sugar (filling)
1½ Tbs. flour
½ tsp. cinnamon (filling)
1Tbs. lemon juice
½ cup flour
⅓ cup brown sugar
½ tsp. cinnamon
¼ cup cold butter
Directions
Whisk milk, eggs, sugar, vanilla and cinnamon together, pour into shallow pan and place 6 split Cranberry Citrus Mini Muffins in batter rotating occasionally. Soak for ½ hour.
Butter a standard muffin tin (2"base)
Mix apples, sugar, flour, cinnamon and lemon juice in bowl and set aside.
Place all dry ingredients in bowl with a rounded base and cut in the butter with a pastry cutter until like small peas.
Press soaked muffins outside down in muffin tin base. Top with a small scoop of apple filling about 1/8 cup and press down slightly. Top with streusel mixture and press slightly into apple filling.
Bake 350* for 40 minutes. Let sit for about 10 minutes in pan and run knife around edges to remove from pan.
Serving Suggestion: Top with ice cream or sweetened whip cream
Recipes Breakfast/Brunch Savory Dessert Mini Moments